Welcome to Deb's Dog Care Website

Welcome to Deb's Dog Care LLC. located in Terrytown, Louisiana serving the New Orleans and Metro area. My name is Deb. Deb's Dog Care LLC (Licensed, Insured, and bonded) offers in home dog boarding, dog walking, pet sitting & dog bathing in your home or mine. We have limited spaces available for our IN HOME GUESTS.
What makes Deb's Dog Care so unique is that your furry animal boards in our home as one of our own beloved pets and is treated like part of the family. There are no lonely kennel nights or cold concrete floors, instead they are surrounded in our home environment with lots of play time and warm loving arms. Provided they behave nicely, they have access to a large safe back yard with a 6 foot wooded fence, and full run of the house.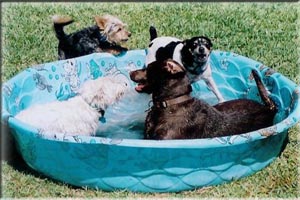 Feeding time is done separately unless owner specifies otherwise. Personal toys, blankets, beds and more are all welcome to make your furry baby feel at home. Dog Med's are administered at no extra charge and crates are available upon owner request.
Deb's Dog Care is a proud member of Pet Sitter Biz & Pet sitters associates LLC.
** DEB'S PERSONAL TOUCH **
Follow me on Facebook.
===============================================
CONTACT
Deb Pamplin
504-393-2688 – home
504-452-6984 – cell
Deb@DebsDogCare.com
Open 24 Hours / Emergency Situations Welcome.
Call 24 hrs & 7 days a week – Calls after 9pm for EMERGENCIES ONLY PLEASE.
===============================================